In Pain? Get In Touch
For appointments
Colgan Osteopathy Kettering @Next Step Podiatry
6 Lower Street, Kettering, Northamptonshire, NN16 8DH
Saturday                09:00-20:00
Tel: 07738 493974
E-mail: info@colganosteo.com
Welcome to the Colgan Osteopathy in Kettering
Colgan Osteopathy is a friendly and professional family-run business.  We aim to provide you with the best and effective treatments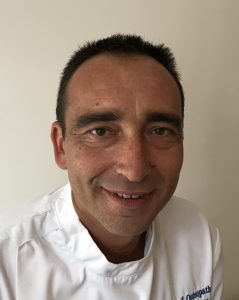 Vadim Kalganov is Registered Osteopath (Reg Number 9976) B.Ost (Hons) Osteopathy, Dip Ac TCM MAcS Acupuncture. Vadim is qualified in both Osteopathy and Traditional Chinese Medicine. This unique blend of skills makes him a well-rounded healthcare professional and provides a fast resolution to pain for people of all ages. Vadim is very passionate and knowledgeable about health and wellbeing. He specialises in the treatment of chronic unresolving conditions, particularly to the lumbar spine and pelvis. He is a member of the General Osteopathic Council (GOsC), the Institute of Osteopathy (previously British Osteopathic Association) and Acupuncture Society.
Our unique approach to patient treatment
Experience has shown that our "combined treatments" such as combinations of Osteopathy with Traditional Chinese Medicine have been shown to improve patient outcome and  healing times. Our unique approach to patient care has enabled us to treat many local people successfully.  Getting you pain-free, back on track in a speedy fashion is very important to us. A satisfied patient is at the heart of everything we do today. We also feel the best investment you can ever make is in your health. One of our unique ways of improving healing times, reducing pain and providing focused pain relief.
Providing years of expertise
Experience in practice has helped us to think outside the "box". Especially with conditions that are complex or that just "don't get better". Our multi-disciplinar approach has helped us to provide treatment solutions that work. Best practice ensures you have a focused approach and the treatment you need. Providing patients with rapid access to the best treatments available.  A unique way of improving healing times and reducing pain.
Long-term health solutions that work
Providing patients with long-term health solutions is essential. We don't want you to spend your life taking painkillers or on someone's treatment table. Our thoughts are – If we provide patient-focused, consistently high-quality treatments, then we have satisfied patients. Happy people are at the heart of everything we do.
Our hands-on treatments are individually designed for you
Treatment programmes are created individually for each person. Working this way reduces the risk of the injury happening over and over again. Our integrated healthcare team work together to provide you with safe and effective options. By working this way patients improve quickly, and we feel one of the reasons people recommend us.
A clear pricing structure.
The quality and scope of the treatments we provide have developed over time. We will provide a professional and effective solution for your pain or health-related. Colgan Osteopathy has a transparent and open pricing structure.
Above all our experience has shown that a caring and thoughtful approach tends to resolve problems faster.  Also, the most crucial element is that most patients feel improvement after their first consultation and treatment.
High standards of care
We will provide you with a high standard of care to help you achieve your individual needs and goals.
Colgan Osteopathy in Kettering
Next Step Podiatry Clinic
6 Lower Street, Kettering, Northamptonshire, NN16 08DH
Saturday 09:00-20:00
Tel: 07738 493974
E-mail: info@colganosteo.com